(15 days/ 14 nights)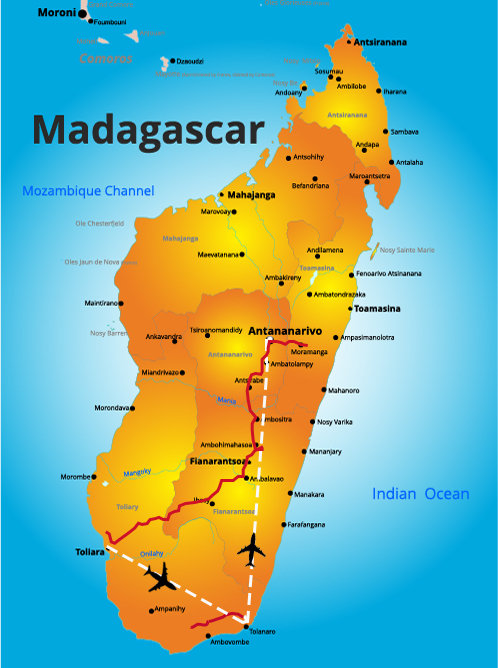 First a visit of the Andasibe reserve, then classical southern tour with visit of the nationalparks of Ranomafana and Isalo, then visit of Ifaty with its nice beach and endemic flora. Flight to Ft. Dauphin and visit of the Berenty reserve.
Price
TARIFFS PER PERSON:
1 person SINGLE: 4035 Euro
2-3 people DOUBLE: 2245 Euro
4-5 people DOUBLE: 1755 Euro
6-8 people DOUBLE: 1625 Euro
SINGLE SUPPLEMENT 545 Euro
Include
Exclude
Planned hotels for this tour (subject to availability, other hotels are possible, tariff may have to be adjusted):
Name of city / Standard hotel/ best hotel

Antananarivo /Lapasoa** / Royal Palissandre**** Std room
Andasibe / Sahatandra River** / Vakona Forest Lodge***
Antananarivo /Lapasoa** / Royal Palissandre**** Std room
Antsirabe / Chambres du voyageur** / Arotel*** std room
Ranomafana / Centr'est** / Setam Lodge*** (Setam lodge on half board base compulsory)
Fianarantsoa / Villa Sylvestre** / Tsara Guest house*** room with king size bed
Ranohira / Isalo Ranch** / Isalo Rock Lodge**** on half board
Ifaty /La Mira Hotel *** /Paradisier*** suite
Berenty / Berenty Lodge** / unchanged
Fort Dauphin / Croix du sud*** room with terrace / unchanged
Antananarivo /Lapasoa** / Royal Palissandre**** Std room
Attention!
Tariffs are subject to changes, especially if heavy fluctuation in exchange rate and/or fuel prices. All tours and tariffs are subject to changes in case of cancellations or overbooking of flights, changes in timetable, bad weather and road conditions, strike, political troubles, problems with fuel supply, tribal and other war, closing of sites, natural disasters such as earthquakes, cyclones, floods and other acts of God.