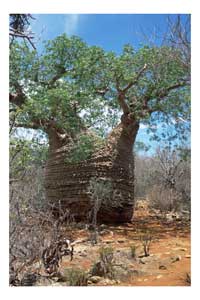 Further south, you'll see the enormous Andringitra mountains with its high walls, inviting the rock climber to spend days or weeks there. You can also make nice hikes there, and see the nearby Anja reserve with its colony of Katta lemurs. Further on, you'll pass by a chain of hills called "the bishops hat" due to its form. The flat steppe of the plateau of Horombe will remind you of some areas in Africa.
A real highlight along this tour are the monumental Isalo mountains with its Canyons and towers, a breathtaking sight!
Even more adventurous is the sapphire eldorado Ilakaka, a rampant shanty town which conjures up images of the gold rush in California, in the last century. The trip carries on to the Zombitse national park, where you'll see the first Baobab trees.
Next you'll approach the harbour city of Toliara. If you wish to relax, you can go to the nearby blue lagoons of Ifaty or Anakao.
For succulent and cactus lovers, it is worthwile making the rough trip to Ft. Dauphin by 4WD car. For the others, it can also be reached by a short domestic flight from Toliara. Ft Dauphin and its surroundings are ideal for wind- and wave-surfing, but also for excursions. To name but a few: Nahampoana and Berenty Reserves. National park of Andohahela. Sisal plantations, and the wild and unspoilt area around the lake Anony with its sand dunes etc.
Very beautiful is also the cove lined  fishing village of Evatra and the unspoilt bays nearby.