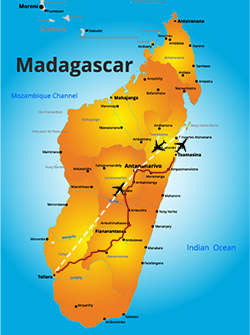 (16 days / 15 nights)
A very nice classical tour that gives a great view of the different landscapes, fauna and flora of Madagascar. Drive to the South with visits of the Ranomafana and Isalo National park. In Tulear visit of the Arboretum and flight back to Tana, then continuation to the east with a visit of the Perinet park and along the Pangalanes canal until Tamatave. Flight to the Sainte Marie island to relax on the beach. Extension on Sainte Marie island possible.
Price
TARIFFS PER PERSON:
1 person: SINGLE: 3885 Euro
2-3 people: DOUBLE: 2145 Euro
4-5 people: DOUBLE: 1610 Euro
6-7 people: DOUBLE: 1440 Euro
SINGLE ROOM SUPPLEMENT: 480 Euro
Supplement for best hotels:
SINGLE: 1145 Euro
DOUBLE: 825 Euro/person
Supplement in best hotels for:
Half board: 205 Euro
Full board: 510 Euro
Include
Exclude
Planned hotels for this tour (subject to availability, other hotels are possible, tariff may have to be adjusted):
Name of city / Standard hotel / best hotel
Antananarivo /Lapasoa** / Tamboho Hotel***
Antsirabe / Chambres du voyageur** / Arotel ***
Ranomafana / Centr'est** / Setam Lodge*** (Setam lodge on half board base compulsory)
Fianarantsoa / Villa Sylvestre** / Zomatel *** new wing
Ranohira / Isalo Ranch** / Isalo Rock Lodge**** on half board
Tulear / Victory*** /Moringa*** suite
Antananarivo /Lapasoa** / Tamboho Hotel ***
Andasibe / Grace Lodge** / Vakona Forest Lodge***
Akanin'ny Nofy / Palmarium** / unchanged
Sainte Marie / Lakana** / Princesse Bora Lodge***sup. luxury villa (in both hotels half board compulsory)
Antananarivo /Lapasoa** / Tamboho Hotel ***
Attention!
Tariffs are subject to changes, especially if heavy fluctuation in exchange rate and/or fuel prices. All tours and tariffs are subject to changes in case of cancellations or overbooking of flights, changes in timetable, bad weather and road conditions, strike, political troubles, problems with fuel supply, tribal and other war, closing of sites, natural disasters such as earthquakes, cyclones, floods and other acts of God.