South and Morondava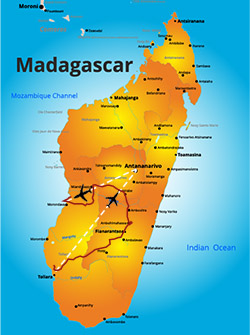 Madagascar 1st day:
EUROPE – ANTANANARIVO
Meeting at Ivato international airport and transfer to the city. Overnight at the hotel.
Madagascar 2nd day:
ANTANANARIVO – MORONDAVA (flight only three to four times a week, so arrival for tour has to be adapted accordingly) – KIRINDY RESERVE (45 km about 2 h drive)
Breakfast and transfer to the airport for flight to Morondava. Reception at the airport and drive directly through Baobab Avenue to Kirindy Reserve. Night walk in the reserve. Overnight in the simple lodge at the reserve or according to the list with the better hotels below. 
Madagascar 3rd day:
KIRINDY RESERVAT – MORONDAVA (45 km about 2 hours)
Hike of about 1.5 to 3 hours in the Kirindy Dry Forest Reserve on mostly flat trails to spot lemurs, snakes, fossa etc.. Afterwards visit the Baobabs, which are in love with each other, and then perhaps you can stay until sunset at the Baobab Alley, a magical moment! Then drive to Morondava and overnight there.
Madagascar 4th day :
MORONDAVA – ANTSIRABE (500 km about 10 h drive)
You pass through some villages and baobab trees, and then via Malaimbandy to Miandrivazo. On the way you will see an area with many bushes. From Miandivazo you follow a winding road along mostly bare hills to the plateau of Antsirabe. Overnight stay in a hotel.
Madagascar 5th day:
ANTSIRABE – RANOMAFANA (240 km about 5,5 h drive)
After breakfast departure to Ranomafana. Short break in Ambositra to visit some studios and boutiques of "Zafimaniry" art, specialists in wood sculptures and wood miniatures. Continue to Ranomafana, then check in at the hotel. Before dinner you can go for a night walk along the road to discover the nocturnal animals, with a bit of luck you will see mouse macaws, chameleons, frogs etc… Back to the hotel.
Madagascar 6th day:
RANOMAFANA – AMBALAVAO (139 km about 3 h drive)
Breakfast, followed by a morning visit to the 40,000 hectare National Park on the Namorona River with its fauna and flora, including the Red-bellied-Lemur, the Red-fronted-Lemur, and the Golden Bamboo-Lemur discovered in 1986. In this national park there are over 100 species of birds, 68 of which are endemic to Madagascar, then various ferns, mosses, orchids and giant bamboos. This hike takes about three to four hours and is quite strenuous, as it goes uphill and downhill over hill and dale. It requires endurance, stamina and sure-footedness. Then drive via Fianarantsoa to Ambalavao. Overnight stay in a hotel.
Madagascar 7th day:
AMBALAVAO – RANOHIRA (220 km about 5 h drive)
Visit to the production of Antemoro paper: paper made from the bark of the Havoha tree, according to a method left behind by the Arabs (not possible on Sundays). About 12km after Ambalavao there is then another stop to visit the small reserve Anja in a two-hour hike on partly bumpy paths; there Katta lemurs can be observed in their natural environment. Finally we continue to Ranohira, where we spend the night in a hotel.
Madagascar 8th day:
 RANOHIRA
Morning trek inside the Isalo National Park to discover on a walk of around three to five hours on sometimes bumpy tracks, at some parts a bit steep, the massif of Isalo, its ruin like sandstones, canyons, endemic fauna and flora (Lemurs and endemic plants such as Pachypodium , aloes,..) and to swim in its natural pool. Back to the hotel and Overnight.
Madagascar 9th day:
RANOHIRA – TULEAR – IFATY (240 km about 4 h drive)
After breakfast, off to Tuléar along a straight road. The landscape is composed of high bushes, thick gallery forests and some proudly decorated Mahafaly tombs. Visit of the Arboretum with many species of endemic plants. Continue to Ifaty and check in at the hotel. Overnight at the hotel.
Madagascar 10th day:
IFATY
Relaxing on the beach, possibility of water sports (diving at the coral reef, surfing etc.) or walks in the surroundings; there are many interesting plants (didiera madagascariensis, euphorbiacées, jujubiers, cactus,…) and also birds to see. Optionally, you can also visit the small Reniala reserve on your own.
Madagascar 11th day:
IFATY – TULEAR – ANTANANARIVO (27 Km etwa 1,5 Stunden)
After breakfast transfer back to Tulear, and flight to Tana. There reception and transfer to the hotel.
Madagascar 12th day:
ANTANANARIVO – EUROPE
After breakfast, visit of the handicraft market with many handmade items made from wood, leather, stone, natural fibres etc. . Then transfer to the airport for the flight back to Europe.
TARIFFS PER PERSON:
| | | |
| --- | --- | --- |
| 1 person | | SINGLE: 2550 Euro |
| 2-3 people | | DOUBLE: 1440 Euro |
| 4-5 people | | DOUBLE: 1225 Euro |
| 6-7 people | | DOUBLE: 1160 Euro |
| SINGLE SUPPLEMENT | | 320 Euro |
Including:
Airport transfers
Midrange accommodation on bed and breakfast Basis
Car rental with fuel, driver and driver's indemnities
Park and reserve fees
Service of park or reserve guides
Visit of the handicraft market
Tourist levy and VAT
Excluding:
International flights with their airport taxes
Domestic flights with airport taxes: Antananarivo – Morondava, Tuléar – Antananarivo: about 300 – 500 Euro per person without reduction, if flying long haul with MD, tariff will be reduced.
Visa fee (35 € for a stay up to 30 days)
All other drinks and meals
Personal expenditures
Personal insurance for eventualities like accidents, theft or damage to luggage, cancellation etc
Supplement for a guide from the agency
900 Euro (to be shared by particpants)
Supplement for best hotels
DOUBLE: 370 Euro /person
SINGLE:  680 Euro
Supplement in best hotels for
Half board: 150 Euro
Full board:  285 Euro
Planned hotels for this tour (subject to availability, other hotels are possible, tariff may have to be adjusted):
Name of city / Standard hotel/ best hotel
Antananarivo /Lapasoa** / Tamboho Hotel*** Sup room
Kirindy/ Kirindy Lodge*(very simply) / Relais du Kirindy***
Morondava / Renala au sable d'or** / Palissandre Côte Ouest****
Antsirabe / Chambres du voyageur** / Royal palace*** std room
Ranomafana / Centr'est** / Setam Lodge*** (Setam lodge on half board base compulsory)
Ambalavao/ Betsileo Country Lodge **(*)
Ranohira / Isalo Ranch** / Isalo Rock Lodge**** on half board
Tulear / Victory*** /Moringa*** suite
Antananarivo /Lapasoa** / Tamboho Hotel*** Sup room