Face to Face
with the Malagasy population and the lemurs Group Tour 2023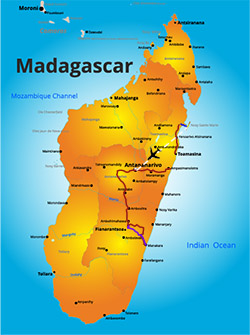 A new program for a group tour, guided by Klaus Heimer (63), who has been living in the country for more than 20 years as photographer and journalist and also works for the Madagascar guidebook of the Reise-Knowhow serie in german language (it came out in 2009, 2012, May 2015 and probably in 2023).
This tour of around 3000 km in an internationally mixed group leads first to the east of the country, along the Pangalanes canal, through Tamatave, Foulpointe, Fenerive Est and then from Soanierana-Ivongo by boat to the former pirate island of Sainte Marie (if the sea is not too rough), where you can see with some luck from June to September humpback whales. Then back to Tana by the domestic flight airline Tsaradia, and to the volcanic area around Ampefy and Analavory. After that via the hilly area of Faratsiho and Sambaina to the National road No. 7 until Antsirabe. The next day to Fianarantsoa, and depending on the number of participants with the 2020 repaired "Train of Life", also called Jungle Express (currently runs only Tuesdays and Saturdays to Manakara, Wednesdays and Sundays back) or the track motor car, if they are fit to drive, to the 163 km distant town of Manakara on the southeast coast. The last highlight is a visit to Ranomafana National Park. This tour includes the visit of two Nationalparks and several small reserves. Meet the local population, enjoy the knowledge of your English and German speaking guide, and many opportunities to take great pictures. You'll also experience some culinary highlights. As a bonus, you can bring a USB stick with you and you'll get a copy of all pictures which the guide Klaus Heimer will take, he'll also take pictures of the participants.
We'll offer this tour in 2023 at the following 6 dates:
April 13. to 30.
(Arrival the latest on April 14th 05AM, departure the earliest April 29th at 8PM)
May 04. to 21.
(Arrival the latest on May 5th 05AM, departure the earliest May 20th at 8PM)
May 25. to June 11.
(Arrival the latest on May 26th 05AM, departure the earliest June 10th at 8PM)
Aug. 31. to Sept. 17.
(Arrival the latest on Sept. 01st 05AM, departure the earliest Sept 16th at 8PM)
Oct. 19. to Nov. 05.
(Arrival the latest on Oct. 20th 05AM, departure the earliest Nov. 4th at 8PM)
Nov. 16. to Dec. 03.
(Arrival the latest on Nov. 17th 05AM, departure the earliest Dec. 02nd at 8PM)
Other dates upon request, but then with another guide than Klaus Heimer
Subject to modifications of the flights
Depending on the chosen airline, some additional nights in Tana will be necessary, you'll find the tariff per supplementary night here below.
Price
TARIFFS PER PERSON, public rate
From 02 People:  In DOUBLE ROOM: 2545 Euro
Single supplement: 480 Euro
Supplementary night in Antananarivo at Belvedere hotel, if necessary due to flight arrival:
Tariff per person incl. tourist levy and breakfast:
In DBL room: 36 €
In SGL room: 66 €
Include
Exclude
Changes in the program reserved, especially if train timetable changes ect
The above mentioned hotels are planned for the tour, but this is subject to modification:
Attention
Tariffs are subject to changes, especially if heavy fluctuation in exchange rate and/or fuel prices. All tours and tariffs are subject to changes in case of cancellations or overbooking of flights or trains, changes in timetable, bad weather and road conditions, strike, political troubles, problems with fuel supply, tribal and other war, closing of sites, natural disasters such as earthquakes, cyclones, floods and other acts of God. Please also see our general conditions.