Diego Suarez, or in Malagasy language "Antsiranana", is the largest city of the north and also ist business centre. It lies in one of the largest bays in the world, and is sometimes compared to Rio de Janeiro, because of its "sugar hut" island in the bay. From Antsiranana, you can make many excursions, close by are the three bays and the Winsor Castle. For water sports like surfing, the Sakalava bay is ideal, but also the Babaomby area at the Emerald sea. The Amber mountain National park with ist waterfalls and endemic plants and animals is another highlight. When you travel a bit further south, you can also visit in dry season the red Tsingy, amazingly coloured and through millions of years formed laterite formations, and a bit further also the Tsingy of Ankarana in the national park with the same name, limestone formations similar to the Tsingy of bemaraha, but a bit smaller. There are also bat caves there.
Further south in Ambanja, you can also see some plantations of spices, Ylang Ylang and cacao. From Ambanja, you can drive to Ankify, from where the boats go to Nosy be and Nosy komba islands. Around Nosy be, there are many paradise like tropical islands like Nosy Sakatia, Nosy Tsarabanjina, Nosy Iranja, and also the underwater reserve Nosy Tanikely island, all with deep blue and turquoise waters and fine white coral sand. There's no need to mention that there's also great diving in this area.
Nosy be is a bit larger than the other islands mentioned above, and has many hotels from simple to luxury standard, and you can do, besides visiting the surrounding islands, many activities, like visiting the Lokobe reserve or Mount Passot or Ylang Ylang plantations, many kinds of water and beach activities, or also rent a quad bike, motorbike etc.
---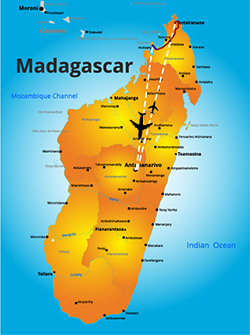 (8 days / 7 nights)
Classical northern tour with visits of the national parks Montagne d'Ambre and Ankarana with its Tsingy, then discovery and relaxing on Nosy Be.  Extension on Nosy Be possible.
---
(21Day / 20nights)   
Meeting at Ivato international airport and transfer to the hotel. Overnight at the hotel IBIS
---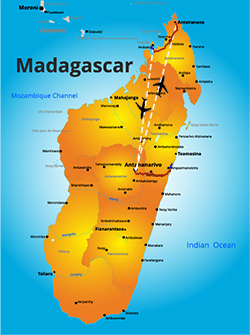 (15 days / 14 nights)
Visit of the Perinet nationalpark, then along the Pangalanes canal until Tamatave. Flight to the North and visit of the nationalparks Montagne d'Ambre and Ankarana with its Tsingy. After that discovery and relaxing on Nosy Be. Extension on Nosy Be possible.
---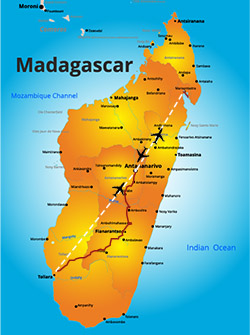 (15 days / 14 nights)
At the beginning classical southern tour, with a trip to Ranomafana and Isalo nationalparks. Then, flight to Maroantsetra as a starting point to discover Masoala peninsula and Nosy mangabe.
---