---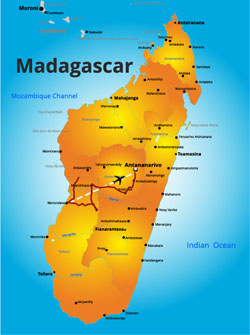 Trekking in the Makay Massif and visit of the Tsingys of Bemaraha
This tour takes you to some of Madagascar's most scenic areas. However, it has an expedition character and is very demanding and only for experienced hikers, who can walk for six to eight hours a day (about 20 km) in a rough terrain and are happy with minimal comfort for the duration of the Makay trek (bush toilet, wash yourself the river). All food must be brought by the porters. The tour is only for people who are physically up to the task and can only be done in the dry and not too hot season from mid-May to the end of September (in October it gets too hot there).
---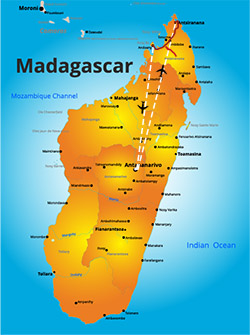 Trek Itinerary
Maromokotro is the highest mountain on Madagascar at 2,876 m (9,436 feet) high. It is located in the Tsaratanana Massif in the Northern part of the island. It is remote and can only be reached on foot crossing savannah, thick forest and mountain plateau.  The round trip usually takes 15 days
Beautiful campsites, traditional Malagasy Villages, clean rivers and stunning wildlife are only a few of the wonders which await you. This tour is for the trained trekker in a very good physical condition only, it's an expedition at your own risk, and overnights will be without any comfort. All equipment and food will be brought along the tour.
---
(21 days / 20 nights)
This tour will take you the most important bird whatching areas in the west, east and south of Madagascar, where you can see many endemic and other birds. You'll also see several nationalparks and reserves, such as Ampijoroa, Andasibe/Périnet, Ranomafana, Ranohira and Zombitse.