The colourful North
Diego Suarez, the largest city and the business centre of the north, lies picturesquely in a bay with a great view of the Malagasy "sugar hut".
Read more about the colourful north.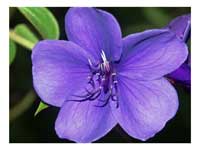 The tropical East
Rain forests with their deep green treetops, rare orchids and exotic fauna shape the east of Madagascar.
Read more about the tropical east.
The wild South
The road to the south offers a lot of diversity. You drive first through winding roads towards the highlands, alongside rice paddies, vegetable fields and shady forests.
Read more about the wild south.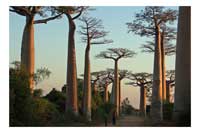 The magical West
World-famous is the Baobab Alley near the city of Morondava. It is known as one of the landmarks of Madagascar. Let it cast its spell on you and experience a magic moment, when the sunset throws its golden-red rays on these giant trees.
Read more about the magical west.