The 3 bays, the Windsor Castle, the emerald sea and the 18.000 hectare large national park Amber mountain are the highlights of the region. Many species of lemurs, birds, endemic plants and impressive waterfalls are to be found in the park. On the way to Ankify is a worthwhile excursion to the red Tsingys and the national park of Ankarana. The cave in the park is a holy place where the local natives hold ritual celebrations.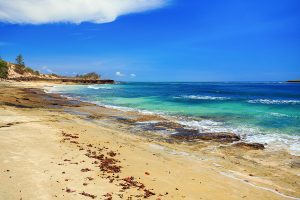 Off the north coast there are many tropical dream islands such as Nosy Be, Nosy Iranja, Nosy Tsarabanjina and Nosy Sakatia, with beautiful white coral sand, palm trees, deep blue and turquoise waters.
The most well-known of these islands is Nosy Be, which is developing into a rising paradise for travellers. Hotels for every taste, numerous water activities, quad biking, Ylang Ylang plantation and the Lokobe reserve promise varied days out.
Divers will find ideal conditions on all islands, especially in the under water reserve of Nosy Tanikely.