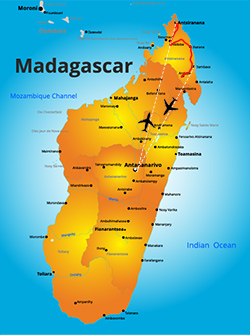 Madagascar 1st day:
EUROPA – ANTANANARIVO
Meeting at Ivato international airport and transfer to the hotel. Overnight at the hotel IBIS
Madagascar 2nd day:
ANTANANARIVO – DIEGO SUAREZ – MONTAGNE D'AMBRE (about 1 hour flight then around 25 km 1 hour-drive)
Transfer to the airport and flight to Diego. Meet at the airport and departure for a city tour. Diego is one of the oldest cities with colonial era buildings and wide streets in Madagascar. It is also an important port with many bars, restaurants and cafés. After the visit, drive to Montagne d'Ambre – located about an hour from Diego Suarez in Joffreville. Night at the hotel NATURE LODGE
Madagascar 3rd day:
MONTAGNE D'AMBRE
After breakfast, a full day excursion to the National Park of Montagne d'Ambre where you can see lemurs, waterfalls, many rare and endemic plants, birds, blue-nosed chameleons (the smallest in the world), panther chameleons, a northern ring-tailed mongoose or some leaf-tailed geckoes and snakes. The park is also full of butterflies. Picnic lunch served. Night at the hotel NATURE LODGE
Madagascar 4th day:
MONTAGNE D'AMBRE- ANKARANA (120 km about 3 hour-drive)
Breakfast then off to Ankarana – a nature reserve of limestone pinnacles called Tsingy, rich in endemic fauna and flora (lemurs, birds, plants…). On the way, visit of the Tsingy Rouge – red coloured pinnacles, that are made of laterite and shaped by erosion. Picnic lunch served. Night at the hotel ANKARANA LODGE
Madagascar 5th day:
ANKARANA
A full day visit of the nature reserve of Ankarana to see endemic plants, birds and lemurs. The walk takes several hours and goes up and down on mostly rocky trails. Picnic lunch served. Night at the hotel ANKARANA LODGE
Madagascar 6th day:
ANKARANA – AMBILOBE – DARAINA (27 Km asphalt road + 112 Km piste)
After breakfast drive to Ambilobe – the junction town between the northeast coast and Madagascar's north and northwest coast. On the way, you can see some khat-plantations. Continuation to Daraina – a protected area, managed by a madagascan NGO, to support local villages and protect flora and fauna. Daraina lies 64km west of Vohémar and is home to a transitional dry forest, lemurs and some goldpanners. The roads are tricky because the area is regularly hit by bad weather and are not accessible during the rainy season. Noctural walk to spot the Aye Aye lemur, with its long middle finger (Daubentonia madagascariensis). Overnight stay at CAMP TATTERSALLI in a furnished tent
Madagascar 7th day:
DARAINA
Walk into the forest to see the locally endemic and critically endangered Propithecus Tattersalli, reptiles, birds and other lemur species such as crowned lemurs, Sanford's brown lemurs, and Sheth's dwarf lemurs. Visit of a vanilla plantation or a vanilla workshop for organic vanillas, for which the SAVA region (its four principal towns are Sambava, Antalaha, Vohemar, Andapa) is famous. Overnight stay at CAMP TATTERSALLI
Madagascar 8th day:
DARAINA – VOHEMAR – SAMBAVA (64 Km piste + 150 Km asphalt road)
Breakfast, then drive to Sambava through a scenic landscape with transitional dry forests, wide grasslands, rivers and wild beaches. Passing by Vohemar – a small port and zebu meat producer. Then continue to Sambava – located on the northeast coast and well known as the capital of the vanilla industry. The 64km piste between Daraina and Vohémar requires 2,5 hour-drive and the 150 km asphalt road from Vohémar to Sambava is about 2,5 hour-drive. Night at the Hotel MELROSE
Madagascar 9th day:
SAMBAVA – ANDAPA (109 Km)
Drive to Andapa. The area is economically better, its main activity is agriculture. Sambava produces vanilla, coconuts, cloves, cocoa and coffee when Andapa has an number of ricefields. Sambava is also a place for swimming and Andapa a place for quietude. Overnight at the hotel BEANANA.
Madagascar 10th day:
ANDAPA – ANTANETIAMBO – ANDAPA
A small trip in Andapa's basin to the private reserve of Antanetiambo. You will spend most of your days surrounded by ricefield and moutains through this little piece of land where Désiré Rabary, one of the oldest guide is working for already more than 20 years. Lunch there. Back to the hotel BEANANA.
Madagascar 11th day:
ANDAPA – RESERVAT ANJANAHARIBE
Early morning, drive to the village of Andasibe Mahaverika, deep in the basin, 25km of so-so earth-road, then meet some porters and prepare for a 15km on a taxi-moto. Not so comfortable on a very bad road but it's quicker than walking the 15km. The road is sinuous and enter slowly the mountains of Anjanaharibe-Sud, through the villages of Befingotra (where you will eat in a local gargote) and Antsahoabaely to finally reach camp Indri (20′ walk from the road to the camp). Sleeping under tent (provided with mattress). Camp Indri is basic but it may sound like an old XIXth century adventure, in the forest, with its sounds and its magic. Dinner and night at camp. Nightwalk in option if you are not too tired, just around the camp. 
Madagascar 12th day:
RESERVAT ANJANAHARIBE
Depending on the choice, there is multiple one-day trips to be done, looking for the indris, the silkies, the takthajania plant or just wandering on the main road. Indris will be one of the top priority no doubt about. At dusk, nightwalks can start (if allowed by park's direction), and it can be incredible. Birdings as well can be quite nice at this time of the day, like early mornings too 
Madagascar 13th day:
RESERVET ANJANAHARIBE
What you won't have done on D3, will be done on D4 ! 
Madagascar 14th day:
RESERVAT ANJANAHARIBE – ANDAPA
Time to go back to Andapa, taxi-moto, small restaurant in Befingotra and back to the hotel for some hot showers and comfort. Overnight at the hotel BEANANA.
Madagascar 15th day:
ANDAPA – MANANTENINA – CAMP MANTELLA
After breakfast, drive directly to Manantenina – Marojejy NP visitor's center. Meet the team and start the walk to camp Mantella (C1, 8km, 4h in a watching pace, no difficulty – start at 100m altitude, camp at 450m). Lunch there. In the afternoon (if enough time), have a tour at the Cascade de Humbert. Make a night walk if allowed, then have dinner. Night at camp MANTELLA in shared bungalows (fully equipped but always better to have a light sleeping bag).
Madagascar 16th day:
CAMP MANTELLA – CAMP SIMPONA
Walk up to camp SIMPONA (C3, 1250m altitude, 4.4km but really steep after camp Marojejia (C2), all day to do the walk, still in watching pace). Sandwiches on the way to avoid any constraint of staying in any of the camp during the day. You walk through low, middle and high altitude primary rain forest, many changes in vegetation. Possibility to watch the silky sifakas among other species like bamboo lemur, white fronted lemur, red bellied lemur and many birds, couas, ground rollers, vangas, flycatchers etc. Dinner and night at C3, night walk if allowed and depending on the weather
Madagascar 17th day:
CAMP SIMPONA – CAMP MAROJEJIA
The D-Day, wake up early (around 5am), take a good breakfast and start the ascension. It's short (2.3km) but very steep (around 1000m of vertical elevation to the summit in a short distance), be ready to use your hands to grab roots and trunks, it's not easy and if the weather is bad, it's simply impossible for security reasons, the trail is becoming a river. But if you are lucky, it's an incredibly amazing scenery, a pure 360° view from the Indian Ocean to the high mountains in the Center, in this extraordinary world of the unique mountain's scrub of the all island. Back to C3 for lunch and small rest. In the afternoon, walk down to camp MAROJEJIA (2.4km, 2h). The way down can be hard, beware of knees and ankles, and of course, it's slippery ! Dinner and night at camp
Madagascar 18th day:
MAROJEJIA
A day of rest or of some more walks. Perfect time to go to watch the silkies, their behaviour and spend some hours with. Good time also to check the Takhtajania trail, a trail leading you to a very old family of plant, the Winteraceae, 120 millions years old and to see some of its members, the Takhtajania perrieri, found in 1909, then disappeared and found back in 1994 in Anjanaharibe-Sud special reserve, West of Andapa, then in the Marojejy NP. Lunch, dinner and night at camp.
Madagascar 19th day:
MAROJEJIA – MANDENA – SAMBAVA
Walk back to the village of Mandena where the car will wait for you and drive you to Flavien's farm to share lunch in a beautiful and relaxing place. In the afternoon, the car drive you to Sambava. Overnight at  Hotel MELROSE.
Madagascar 20th day:
SAMBAVA – ANTANANARIVO (flights Sambava – Antananarivo are not daily, so tour may have to be adapted accordingly)
Transfer to the airport for the flight to Antananarivo. Transfer to the hotel, rest of the day free. Overnight at the hotel IBIS.
Madagascar 21th day:
ANTANANARIVO – EUROPA
Transfer to the airport for the flight back to Europe
TARIF PER PERSON:
1 person
SINGLE: 5630 Euro
2-3 people:
DOUBLE: 3450 Euro
4-5 people:
DOUBLE: 3400 Euro
6 people:
DOUBLE: 2875 Euro
SINGLE ROOM SUPPLEMENT:  430 Euro
Supplement for guide from the agency 1765 Euro(to be shared by participants)
Including:
-Transfers from and to airport
-Accommodation based on bed and breakfast in simple to midrange hotels and on fullboard during the trekking tour in Anjanaharibe and Marojejy
-Camping equipments (tent, mattress), it would be better if you brought your own sleeping bag
-Picnic lunch on day 3, 4 and 5
-Road transfers by 4WD car
-Road transfers Andasibe Mahaverika – Anjanaharibe – Andasibe Mahaverika by Taxi moto
-Driver's indemnities and Fuel
-Park and reserve fees
-Service of local guides in parks and reserves
-Porters during the trekking in Anjanaharibe and Marojejy
-Tourist levy and VAT
Excluding:
-International flights and their airport taxes
-Domestic flight with airport taxes: Tana – Diego Suarez and Sambava – Tana  495 Euro per person in Liberté-class
-Visa fee (around 35 € for a stay up to 30 days)
-All other meals and drinks
-Personal expenditures
-Personal insurance for eventualities like accidents, theft or damage to luggage, cancellation etc
Tariffs are subject to changes, especially if heavy fluctuation in exchange rate and/or fuel prices. All tours and tariffs are subject to changes in case of cancellations or overbooking of flights, changes in timetable, bad weather and road conditions, strike, political troubles, problems with fuel supply, tribal and other war, closing of sites, natural disasters such as earthquakes, cyclones, floods and other acts of  God. Additional costs which occur in case of cancellation or change of flight time of a flight are not in our responsibility.
Emergency lines: use mobile phone numbers below
Allgemeine Notfallnummer: +261 (0) 34 01 180 51
Falls keine Antwort auf obiger Nummer:
Patrick: +261 (0)32 07 531 87
Fanja: +261 (0)34 03 837 88