---
Practically untouched, colourful, wild and unique in its diversity: This is how Madagascar presents itself to the visitor, who wishes to experience something special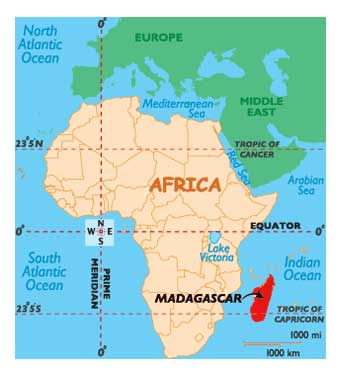 Flora and fauna with over 80% of endemic species of both animals and plants offering a real natural paradise. With such a variety of landscapes and Panoramas you get the feeling of experiencing a mini round the world trip.
The many faces of Madagascar vary from tropical rainforests to barren steppes. From monumental sandstone formations to crystal clear lakes, picturesque terraced rice paddies to remote white sandy beaches. A kaleidoscope for all the senses!
Madagascar with its 592'000 sqkm, is the fourth largest island in the world. Almost a mini-continent, larger than Germany and Switzerland put together. The red island lies in the Indian ocean, some 600 km off the Mozambique coast.
With its 18 tribes, who still preserve their traditional ways, the island is a melting pot of cultures. The majority of the population lead a very simple life, intertwined with the cycles of nature.
If you approach them, you'll find cordiality, warmth and zest for life, which will amaze and touch you. It'll be a souvenir that you'll carry forever in your heart and will never forget.