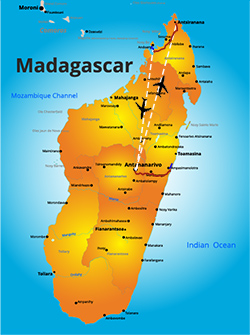 (15 days / 14 nights)
Visit of the Perinet nationalpark, then along the Pangalanes canal. Flight to the North and visit of the nationalparks Montagne d'Ambre and Ankarana with its Tsingy. After that discovery and relaxing on Nosy Be. Extension on Nosy Be possible.
Price
TARIFFS PER PERSON:
01 person: SINGLE: 3270 Euro
02 -03 people: DOUBLE: 1920 Euro
04-05 people: DOUBLE: 1710 Euro
06-07 people: DOUBLE: 1620 Euro
SINGLE ROOM SUPPLEMENT: 610 Euro
Include
Exclude
Planned hotels for this tour (subject to availability, other hotels are possible, tariff may have to be adjusted):

Name of city / Standard hotel / best hotel
Antananarivo /Lapasoa** / Palissandre & Spa****
Andasibe / Grace Lodge** / Vakona Forest Lodge***
Akanin'ny Nofy / Palmarium** / unchanged
Antananarivo /Lapasoa** / Palissandre & Spa****
Diego Suarez / Suarez Hotel**(*) / Allamanda***
Joffreville / Nature Lodge**(*) / Domaine de Fontenay***
Ankarana / Relais de l'Ankarana* / Ankarana Lodge***
Nosy Be / Arc en ciel*** / Ravintsara**** garden room
Antananarivo /Lapasoa** / Palissandre & Spa****
Attention!
Tariffs are subject to changes, especially if heavy fluctuation in exchange rate and/or fuel prices. All tours and tariffs are subject to changes in case of cancellations or overbooking of flights, changes in timetable, bad weather and road conditions, strike, political troubles, problems with fuel supply, tribal and other war, closing of sites, natural disasters such as earthquakes, cyclones, floods and other acts of God.