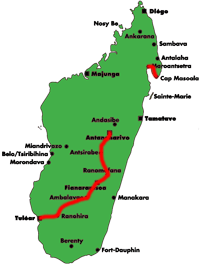 (15 days / 14 nights)

At the beginning classical southern tour, with a trip to Ranomafana and Isalo nationalparks. Then, flight to Maroantsetra as a starting point to discover Masoala peninsula and Nosy Mangabe.
1st day: EUROPE – ANTANANARIVO
Meeting at Ivato international airport and transfer to the city. Stay overnight at the hotel.
2nd day:  ANTANANARIVO – ANTSIRABE (169 km about 3 h drive)
Visit of the lemurs park some 20 km out of the city, where 9 species of lemurs jump around freely. Then drive to Antsirabe through a landscape composed mainly of mountains and rice fields . Tour of the "Town of Water" : so called because of its numerous thermal springs and the existence of two crater   lakes . Visit a workshop where they make miniatures from recycled material. Overnight at the hotel.
3rd day: ANTSIRABE – RANOMAFANA ( 240 km about 5 h drive)
After breakfast, drive to Ranomafana – a national park of rain forest which is home to various species of lemurs such as the golden bamboo lemurs, brown lemurs, birds, chameleons, frogs. Stop in Ambositra for  the visit of some Zafimaniry handicrafts centres: woodcarving. Continuation to Ranomafana.  After check-in at the hotel , night walk along the road to see the nocturnal species of animals, with some luck you'll see mouse lemurs, chameleons etc. Back to the hotel and Overnight.
4th day : RANOMAFANA – FIANARANTSOA (85 km about 1,5 h drive)
After breakfast, visit of the some 40'000 hectares big Nationalpark with its lemurs, chameleons, spiders, frogs, varieties of orchids and medicinal plants. Only in 1986 was discovered the golden Bamboo lemurs here, and there are more than 100 species of birds. This walk takes around 3 to 4 hours, and goes mostly on trails, sometimes a bit steep up and down, and sometimes you'll go off the paths and into the forest to spot the lemurs, it's a bit exhausting and requires endurance and agility. Off to Fianarantsoa – the capital of the Betsileo tribe. Overnight at the hotel.
5th day: FIANARANTSOA – RANOHIRA (295 km about 5,5 h drive)
Early departure to Ranohira. Stop in Ambalavao – the commercial centre of the southern Betsileo region, renowned for its folks, arts and crafts – to visit a wine producer for wine tasting and the "Antemoro Paper" factory (not possible on Sundays). This paper is a delicate, handmade, flower-decorated paper made of the fibres of the tree called "Avoha". Another stop 12km south of Ambalavao to visit the Anja park, where you can see on a walk of around two hours on a little bumpy tracks, but not steep, some families of ring-tailed Katta lemurs in their natural surroundings. Continuation to Ranohira, overnight at the hotel.
6th day : RANOHIRA
Morning  trek inside the Isalo National Park to discover on a walk of around three to five hours on sometimes bumpy tracks, at some parts a bit steep, the massif of Isalo, its ruin like sandstones, canyons, endemic fauna and flora (Lemurs and endemic plants such as Pachypodium , aloes,..) and to swim in its natural pool. Back to the hotel. Overnight at the hotel.
7th day : RANOHIRA – TULEAR (240 km about 4 h drive)
Off to Tuléar along a straight road. The landscape is composed of high bush, dry forests, baobabs and some colourful  Mahafaly tombs. Visit of the Arboretum with many species of endemic plants. Stay overnight at the hotel.
8th day: TULEAR – ANTANANARIVO
Transfer to the airport and flight to Antananarivo. Meeting at the airport and transfer to the city. Overnight at the hotel.
9th day: ANTANANARIVO – MAROANTSETRA (flight three times per week, flights subject to frequent changes)
Transfer to the airport for the flight to Maroantsetra. Rest of the day free at leisure, to discover the provincial town of Maroantsetra with its market etc., or simply relax. Overnight at the hotel.
10th day: MAROANTSETRA – MASOALA
Transfer to the port and transfer by boat about 2,5 hours to Masoala . Then 3 hours walk in the primary forest to see reptiles, birds, lemurs and orchids. Relax and swim in a river or the sea. Stay at the Ecolodge on full board.
11th day: MASOALA
Morning wildlife watching (in search of the Helmet vanga bird and Vari lemurs) during 3 hours. Then visit of a typical village to see plantations of vanilla, cloves and coffee. Stay at the Ecolodge on full board.
12th day: MASOALA
Another day on Masoala, a guide is there and you can make another walk in the forest, or just stay on the beach and perhaps go snorkelling in the underwater reserve. Overnight at the Ecolodge on full board.
13th day: MASOALA – NOSY MANGABE – MAROANTSETRA
Transfer by boat about 2 hours to the small island Nosy Mangabe in the bay of Antongil, which is a nature reserve. A botanical guided walk there, then by boat back to Maroantsetra (about 30 min) Rest of the day at leisure. Stay at the hotel Masoala resort (included in Masoala package).
14th day: MAROANTSETRA – ANTANANARIVO (flight three times per week)
After breakfast, transfer to the airport for the flight to Antananarivo. Transfer to the city. Rest of the day at leisure, overnight at the hotel.
15th day: ANTANANARIVO – EUROPE
In the morning, excursion to Ambohimanga – a UNESCO World heritage site: a King's palace built on the top of the hill covered with forests. In the afternoon, back to Tana and visit of a handicraft market. At the end of the afternoon, day use at the hotel, then transfer to the airport for the flight back to Europe.
Unfortunately, Flight changes and cancellations happen quite often on the Tana – Maroantsetra flights
TARIFFS PER PERSON:
| | | |
| --- | --- | --- |
| 1 person | | SINGLE: 3530 Euro |
| 2–3 people | | DOUBLE: 2110 Euro |
| 4–5 people | | DOUBLE: 1670 Euro |
| 6–7 people | | DOUBLE: 1595 Euro |
| SINGLE SUPPLEMENT | | 365 Euro |
Including:
All airport transfers
Midrange accommodation based on bed and breakfast
The stay at the ecolodge : on full board
Entrance Tickets in parks and reserves (Ranomafana, Anja, Ranohira, Nosy Mangabe , Masoala…)
Service of local guides in parks and reserves
Visit of Ambohimanga and the handicraft market
Transfers by motor boat Maroantsetra – Masoala – Maroantsetra
Renting car or bus with a driver from Antananarivo till Toliara
Fuel and Driver's indemnities
tourist levy and VAT
Excluding:
International flights and their taxes
Domestic flights : Tuléar -Antananarivo; Antananarivo – Maroantsetra  -Antananarivo : about 770 Euro per person without reduction, if flying long haul with MD, tariff will be reduced.
Visa fee (80'000 Ariary (around 24 to 27 € depending on exchange rate) for a stay up to 30 days)
All other Drinks and meals
Personal expenditures
Personal insurance for eventualities like accidents, theft or damage to luggage, cancellation etc.
Supplement for a guide during the whole tour:
1770 Euro (to be shared by participants)
Supplement for the best hotels
DOUBLE: 345 Euro /person
SINGLE:  560 Euro
Supplement in best hotels for
Half board: 155 Euro
Full board:  310 Euro
Planned hotels for this tour (subject to availability, other hotels are possible, tariff may have to be adjusted):
Name of city / Standard hotel/ best hotel
Antananarivo /Lapasoa** / Tamboho Hotel***
Antsirabe / Chambres du voyageur** / Plumeria ***
Ranomafana / Centr'est** / Setam Lodge*** (Setam lodge on half board base compulsory)
Fianarantsoa / Villa Sylvestre** / Zomatel*** new wing
Ranohira / Isalo Ranch** / Isalo Rock Lodge**** on half board
Tulear / Victory*** /Moringa*** suite
Antananarivo /Lapasoa** / Tamboho Hotel***
Maroantsetra / Coco beach* / Relais Masoala**(*)
Masoala / Ecolodge chez Arol*(*)
Maroantsetra / Masoala resort**(*) / Relais Masoala**(*)
Antananarivo /Lapasoa** / Tamboho Hotel***