Tamatave has a strong colonial influence, and you can see it mainly in some large avenues and many buildings in colonial style. You can reach Tamatave by car or airplane from Tana, by train from Moramanga, or via the Pangalanes canal, which terminates here, by boat. Near the city, you can visit the Ivoloina reserve with several species of lemurs, and when you travel north, you can find nice beaches in Foulpointe. You can also do excursions by boat on the canal, or travel to Akanin'ny Nofy on the canal and go on to Manambato or Brickaville. You can also fly three times a week from Tamatave with a direct flight to the beautiful Sainte Marie island, or you can also take the shuttle bus early morning to travel north to Soanierana Ivongo, and cross over to Sainte Marie island by the daily ferry speedboat.
Further east, you'll find Mananjary and Manakara (Manakara with a train connection to Fianarantsoa), and in the southeast the city of Fort Dauphin (Taolagnaro in Malagasy language). In Fort Dauphin and sourroundings, you also have many possibilities of excursions and visits : Nahampoana reserve, Berenty reserve, beaches of Ste Luce, Evatra or Lokaro, or you can travel further south to Lavanono for great surfing.
---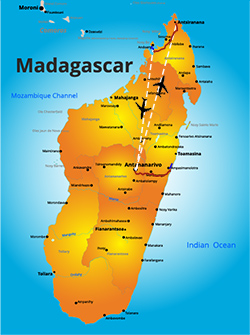 (15 days / 14 nights)
Visit of the Perinet nationalpark, then along the Pangalanes canal until Tamatave. Flight to the North and visit of the nationalparks Montagne d'Ambre and Ankarana with its Tsingy. After that discovery and relaxing on Nosy Be. Extension on Nosy Be possible.
---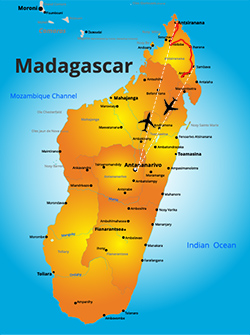 (21Day / 20nights)   
Meeting at Ivato international airport and transfer to the hotel. Overnight at the hotel IBIS
---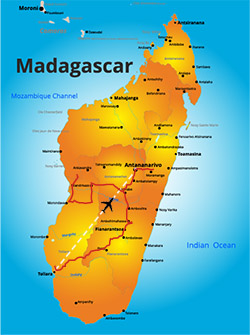 (20 days / 19 nights)
Visit of the reserve of Périnet / Andasibe, then drive to Miandrivazo for the start of the downstream Tsiribihina River trip. Visit of the Tsingy of Bemaraha (UNESCO world heritage site) and drive through the baobab alley. Flight to Toliara and then visit of the Nationalparks of Isalo and Ranomafana. This tour can only be done from June until October and is for the more sporty and adventurous type of customer, it is unsuitable for big people and people who are afraid of heights, as there are passages in the Tsingys where you have to climb through narrow gaps.
---
(9 days / 8 nights)
A tour to the rainy east, with a visit of the Perinet Nationalpark, then along the Pangalanes canal, at the end relaxing on Sainte Marie island. Extension on Sainte Marie possible.
---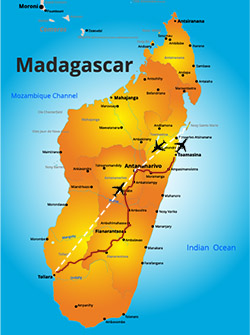 (16 days / 15 nights)
A very nice classical tour that gives a great view of the different landscapes, fauna and flora of Madagascar. Drive to the South with visits of the Ranomafana and Isalo National park. In Tulear visit of the Arboretum and flight back to Tana, then continuation to the east with a visit of the Perinet park and along the Pangalanes canal until Tamatave. Flight to the Sainte Marie island to relax on the beach. Extension on Sainte Marie island possible.
---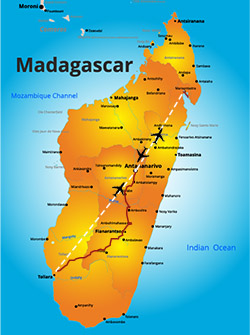 (15 days / 14 nights)

At the beginning classical southern tour, with a trip to Ranomafana and Isalo nationalparks. Then, flight to Maroantsetra as a starting point to discover Masoala peninsula and Nosy Mangabe.
---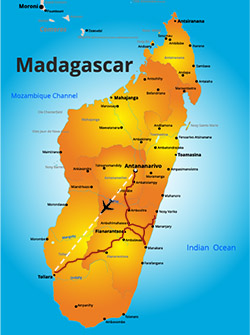 ( 15 days / 14 nights )

Visit Ifaty with its beautiful beach and backlands with endemic fauna and flora. Drive to Ranohira and visit of the Isalo nationalpark, then continuation and visit of the rainforest of Ranomafana with its nationalpark. Drive to the sea at the east, then by boat along the Pangalanes canal to Ambohitsara, a typical village between sea and canal, also known for its "white elephant statue". Extension in Ambohitsara possible.  
---
(8 days / 7 nights)
Flight to Maroantsetra as a starting point to discover Masoala peninsula and Nosy Mangabe. Masoala is a hotspot of biodiversity and a
great place for nature lovers, it also has a marine reserve and beautiful coastline. With a bit of luck, you can also spot humpback

whales from July to September.