( 15 days / 14 nights )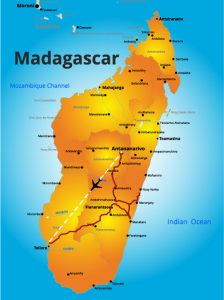 Visit Ifaty with its beautiful beach and backlands with endemic fauna and flora. Drive to Ranohira and visit of the Isalo nationalpark, then continuation and visit of the rainforest of Ranomafana with its nationalpark. Drive to the sea at the east, then by boat along the Pangalanes canal to Ambohitsara, a typical village between sea and canal, also known for its "white elephant statue". Extension in Ambohitsara possible.
Price
Including
Excluding
Price
Tariffs for person
1 person: SINGLE: 4030 Euro
2-3 people: DOUBLE: 2185 Euro
4-5 people: DOUBLE: 1630 Euro

6-8 people: DOUBLE: 1450 Euro
SINGLE ROOM SUPPLEMENT: 540 Euro
Supplement for best hotels:
DOUBLE: 405 Euro/Person
SINGLE: 700 Euro/Person
Supplement in best hotels for:
Half board: 220 Euro
Full board: 455 Euro
Including
Excluding
Planned hotels for this tour (subject to availability, other hotels are possible, tariff may have to be adjusted):
Name of city / Standard hotel / best hotel
Antananarivo /Lapasoa** / Tamboho Hotel*** Sup room
Ifaty / La Mira*** /Paradisier*** std room
Ranohira / Isalo Ranch** / Isalo Rock Lodge**** on half board
Fianarantsoa / Villa Sylvestre** / Zomatel*** new wing
Manakara / Parthenay** / unchanged
Mananjary / Vahiny Lodge*** / unchanged
Ambohitsara / Auberge* / unchanged
Mananjary / Vahiny Lodge*** / unchanged
Ranomafana / Centr'est** / Setam Lodge*** (Setam lodge on half board base compulsory)
Antsirabe / Chambres du voyageur** / Royal palace*** std room
Antananarivo /Lapasoa** / Tamboho Hotel*** Sup room
Attention!
Tariffs are subject to changes, especially if heavy fluctuation in exchange rate and/or fuel prices. All tours and tariffs are subject to changes in case of cancellations or overbooking of flights, changes in timetable, bad weather and road conditions, strike, political troubles, problems with fuel supply, tribal and other war, closing of sites, natural disasters such as earthquakes, cyclones, floods and other acts of God.